Cooper and Tommy
We called Barbara to learn more about the 2 senior rescues we adopted very recently. Tommy is a small German Sheppard mix who Barbara accurately described as "starved for attention." Tommy was actually a stray picked up by animal control and when he got to his last day, was rescued by our local Houlagan's Rest no-kill shelter. As they described him, you could not pet or touch him as he was so timid and scared.

Barbara told us she saw him as being "kept outdoors, not seeing the inside of the house," and had "disconnected relationship" with people. After volunteer walking Tommy a few times, we fostered him to get him into a warm home for the winter. While Tommy became more a bit approachable, we felt we were not making progress connecting with him. She told us of a tall, thin man in Tommy's past (which is a good description of my husband) which might explain Tommy's fear of my husband, but not so much of me. She correctly told us Tommy's primary sense is his good nose and to use that to reward and get close to him.

She sent him the message that he was now in his forever home (which he did not know) and that he could trust us and that we would see a change in him that day. It happened very quickly that with just a few treats and rewards, Tommy now jumps up for every walk, rather than running from the leash every time he saw it. He even did a few twirls of excitement when we got back from the reading and appeared really happy to see us. Whew! We have come a long way in just a few days with Barbara's help!

We are making amazing progress with Tommy as he lays between us on the floor for pets in the evening now. This was a dog that was so fearful in the recent past, that he was almost impossible to catch, would only eat in the bedroom by himself with the door closed, and ran when he saw the leash. Today he comes running when it's time for a walk, can go outside through the pet door by himself, and enjoys playing in the back yard.

Cooper is a brown lab mix who Barbara correctly described as relying mainly on his visual senses. Cooper can spot the slightest movement of anything and soon after we adopted him, he scooted past me to kill a copperhead snake that was right by me. She told us he knows he had a home before us and was tied up on a chain there. While he was petted, he was neglected and has feelings of unworthiness. She accurately described him as submissive, polite and grateful. She said he places his head on your lap and will stay there forever if you pet him, which is all true. Barbara told us "His heart is filled with gratitude" which is amazing and wonderful and we can see that in his quick attraction to us.

We are both so grateful for Barbara's help to be able to make Tommy and Copper's adjustment to their new home easier. Just a note, we talked with Barbara on Tuesday and today is Thursday!

~Catherine, from Virginia
♥♥♥♥♥♥♥♥♥♥♥♥♥♥♥♥♥♥♥♥♥♥♥♥♥♥♥♥♥♥♥♥♥♥♥♥♥♥♥♥♥♥♥♥♥♥♥♥
Shuggie
When I brought Shuggie to Barbara, he had been diagnosed with having two slipped discs. He'd been in severe pain off and on for about three months, and we'd been told he needed back surgery. Shuggie is a tiny guy (7.5 lbs), and I just didn't like the idea of him going into surgery, so I'd been putting it off for a while. The pain wasn't always bad, but Shuggie had stopped doing the things he loved to do. He hadn't even been willing to jump up on the couch in months (despite my coaxing with bacon and cheese and other treats). That was where we were when I first brought Shug to see Barbara.
I don't pretend to know what Barbara did when we met with her that day, but I will say this: When we got home after from our visit, the first thing Shuggie did was jump onto the couch. I couldn't believe it! He was suddenly feeling so much better, I could tell!
We had scheduled appointment with our veterinary surgeon the next week to discuss how we wanted to move forward (surgery, continue monitoring with meds, etc.), and the doctor did an X-ray to see if there'd been any changes. When he came back, he said, "There's really no reason to do surgery, now that I look at it. It seems to be fixing itself!"
That was almost three years ago, and Shuggie is still doing well. He never had another issue with that part of his back, and he's just as happy as he can be. I don't know how she did it, but Barbara fixed my Shug's back! We are so grateful to her and her amazing power!!

~Alicia Lutz, Charleston, SC

♥♥♥♥♥♥♥♥♥♥♥♥♥♥♥♥♥♥♥♥♥♥♥♥♥♥♥♥♥♥♥♥♥♥♥♥♥♥♥♥♥♥♥♥♥♥♥♥


Ginger

I have a nine year old dachshund named Ginger, who like her mom/me is an empath. Ginger is very open to spiritual clearing and always has been. Ginger has had a number of things wrong with her, in her nine years, two of which I thought I was going to lose her. Thank God for all the healing she has received, plus her vet, she is well and can run with the puppy we have now. My spiritual friend who I've know forever, suggested I get with Barbara Rawson, last year to help with Ginger. She has helped keep her well and clear. Recently, I had a call with Barbara about a lump I felt on Ginger's side, between her ribs and leg, and I wanted help ASAP. So Barbara worked on her...worked on the energy in and around her. It was a very interesting call, BUT the lump is gone. Thank God and all the angles for the work Barbara is doing and helping with all our fur family.
~Cynthia Tarantino, Georgia
♥♥♥♥♥♥♥♥♥♥♥♥♥♥♥♥♥♥♥♥♥♥♥♥♥♥♥♥♥♥♥♥♥♥♥♥♥♥♥♥♥♥♥♥♥♥♥♥
OAKLEY

Barbara saved my sanity, marriage and the life of a foster pup named Oakley.
When I agreed to help foster Oakley I had no idea the adventure ahead. He came into my home with the kind of frenetic energy that sets off alarms in dogs for miles around. I have four so you can imagine the uproar in our home. I compare it to opening our front door and throwing in a hand grenade. In attempt to keep the peace, Oakley and I spent that first night sleeping in the van! The only way I could keep him calm was to have him right next to me. And the only way to keep my home sort of quiet was to get him out of it. My husband suffers from chronic migraines and keeping a calm house is a must for his health, and my sanity.
Just the same, one of my dogs, Mocha, could hear us through the window and continued to whine and growl most of that night which set off sporadic bouts of barking with Albert, BeauBo and Happi. The cats hid. Michael woke that next morning exhausted and unable to find me. He frantically searched our home and was about to call the police when he decided to look one more place – the van. This is a funny story in retrospect. It was awful at the time.

I'd been referred to Barbara by a healer I greatly respected. Our first appointment was that very afternoon – thank God.To make a long story short, Barbara spent over an hour with us on the phone. First she scanned Oakley's body for illness and dis-ease. He came up healthy. Then she ran through his body chakra by chakra. She checked in with his memories and emotions to find out when his extreme separation anxiety began and then did what she does to heal it. I can't remember everything she said or did but I do remember the results.By the end of that session he was groggy! He stood up, walked into the crate he'd been avoiding and flopped down, asleep on his bed. That night he slept peacefully and so did all of us and I mean all of us!

From that time on Oakley was a new dog. He was much more relaxed, confident and trainable. His new "energy" made him acceptable to my pack, including the cats! When his old anxiety would flare, Barbara was available to check in with him and ease us back on track. Two months after he came into my home Oakley, a dog who couldn't relax and who had spent two years shuffling between shelters and foster homes, found his forever home.

A friend of mine used to tell me to "never give up until you get your miracle". Barbara is someone who makes miracles happen. If you are at, or near your breaking point, with a pup, purr or person who is on their last chance, I recommend that you don't give up. Give Barbara a call.
I … we … are so very grateful we did.

Viveca Stone-Berry
Fredericksburg, VA
Foster Mom of Oakley
Author, Adopt Foster Volunteer, 2013


♥♥♥♥♥♥♥♥♥♥♥♥♥♥♥♥♥♥♥♥♥♥♥♥♥♥♥♥♥♥♥♥♥♥♥♥♥♥♥♥♥♥♥♥♥♥♥♥

ROTTI

I first met Barbara (over the phone) when my dog Rotti disappeared. He was a stray I picked up on my road with serious joint infections due to being attacked by the pack of wild dogs and/or coyotes that he was running with. He had been gone for almost a week when I called Barbara for help. She told me that he felt healthy and was actually playing, which was very normal for Rotti's personality. She described the surroundings as him being behind a white house with lots of "stuff" in the yard. She felt that he was very close to my farm, maybe within a couple of miles. She asked me to imagine standing on Maybank Highway and draw an imaginary line to my farm from there. She then asked me to draw a triangle at about 7-8 o'clock to the left, and that is where he will be located. My session with her was on Friday afternoon, so I set out on Saturday morning determined to find my boy. I put up flyers everywhere and went all over with my car and ATV looking for this white house Barbara was describing. Within a couple of hours, I sent a text to Barbara to see if she had any additional clues. She replied back saying he was in the same area, but this time she saw him being close to a red truck (remember this detail for later in the story).

In my search, I ran into a very nice man riding a bike on the back roads. He stopped to see what I was looking for and I explained what Rotti looked like and that I was confident he was in this area. He paused, and then said that he needed to get my phone number to get back to me after he checked something out. Being the assertive person that I am, I asked him to tell me what he knew NOW instead of later (it was more like a demand). He said that he was at someone's house and saw a dog that looked identical to Rotti. He was wearing a bright orange collar (which I had just bought for him) and was tied in the backyard of a white mobile home. He said it was a miniature junkyard and that he had apparently lived there before and had disappeared for a few months, then returned home miraculously wearing this shiny orange collar with tags and a microchip (the owners did not even notice that he had been neutered). He told me where it was and I quickly went in that direction, with my stomach twisting more and more each minute. I pulled up in front of a mobile home that he described, got out of my car, and immediately noticed that there was a red truck parked to the left of the mobile home. I tip toed to the side of the house and peeked behind and THERE he was, tied to a tree right next to that RED truck. He was sleeping on the ground, but woke up quickly when I whispered his name. He started barking frantically, trying to break free of the rope that was holding him hostage. A young girl peeked out of the window and asked me what I was looking for, almost as if she had been expecting me. I told her that I was looking for a friend's house and was lost. I immediately left and called Barbara. I was frantic and did not know what to do next, since I knew that taking him from someone's back yard in the middle of the night would surely get me arrested (don't think I didn't consider it though)! She said in a very determined voice, "GO GET YOUR DOG!" I explained that it was not in a "good" part of town and that I had heard that he lived there before. I decided to call the police for back up just in case. She agreed that was best for my safety.

When the police officer and I arrived at the house, the family seemed to know I would be coming back since they were standing guard at the side of the house. He said that he knew I was here about the dog. I confirmed and went on to explain that he has been mine for 3 months and I had nursed him back to health after a dangerous joint infection which could had cost him his life. He said they raised him from a puppy and he had disappeared approximately 3 months ago. They didn't hang signs or make any effort to look for him; however they said how upset they were when he went missing. This baffled me since I had just spent a full week of looking for Rotti and was not abandoning my search until I found my boy, dead or alive! They had a digital camera with puppy pictures of Rotti and said that they would not let him come home with me. They also said that they felt blessed that he returned home on that Sunday afternoon because they had been informed that morning that their cousin had been identified as the young girl who jumped off the Ravenel Bridge. Her body was found that morning floating near the Yorktown. It was difficult for me to argue this was simply a coincidence since Rotti had the biggest heart I have ever seen in an animal. They also said the husband has a heart condition and Rotti encouraged him to take walks every day. Even still, I begged them and offered money for him. I was crying so hard that I could barely speak, which is not characteristic for me. Nothing worked. It became clear that I was not getting my dog back. After saying good-bye to my boy, I left with a heavy heart.

Barbara continued to communicate with Rotti after I left. He shared with her his reasons for needing to stay. He felt he had a purpose there. He was helping his family in need and knew the husband had health issues. He needed to stay; however, he said that he would rather be with me. He was torn, but his sense of purpose won in the end (which I admire him for). I asked Barbara to tell him that he can always come find me, injured or healthy, and I will always welcome him back into our home.

Looking back on it, I do understand that the role I played in Rotti's life was to fix him so he could go back to his true home and continue his healing responsibilities. He received his vaccinations, negative heartworm test, and was neutered as soon as I found him. I trust that will help him in the future. Hopefully, he will not be tempted to roam and has a shot at a healthy life. Jack and I miss him every day; however, I know that he will find us again if he needs anything.

Rotti is still working in our lives. After a few months of Jack feeling at an all time low, another stray entered our lives. She was starving and had recently had puppies. We nursed her back to heath and she is now thriving and has become not only Jack's best friend, but also his girlfriend. Jack is a happy boy!
Without Barbara's help, I would still be wondering about my precious boy and if he is safe and happy. I had been looking for a full five days for him, and after my first session with him, I found him within 20 hours. She carried through with her work until the very end, helping me understand not only where he was, but also WHY he needed to stay. I don't think I could have let him stay where his purpose lies if she had not shared that information with me. It is very evident that Barbara cares deeply about every creature and human on this earth (and those who have passed on). I have since met her in person when she came to my house to perform energy work on me. She is just as amazing in person as she is over the phone. She has also communicated with my cat (who we feel has been reincarnated from my cat that I lost a few years ago), my Appendix mare, and a stray dog up the road of which I am working on getting custody. Every detail has been spot on! I have complete trust and respect in her as a person and an animal communicator.
Kim Delane
Wadmalaw Island, SC
♥♥♥♥♥♥♥♥♥♥♥♥♥♥♥♥♥♥♥♥♥♥♥♥♥♥♥♥♥♥♥♥♥♥♥♥♥♥♥♥♥♥♥♥♥♥♥♥CHAZ


I own the most gentle and eager to please mutt, Chaz. Even during childhood, I've always sensed I could feel people and animal energy. When I heard there was an animal communicator holding sessions, I had to sign up. For others that have sat with her, we wait for her to ask, "what does your pet want more of, and what does your pet want less of." Out the gate, my dog wouldn't let Barbara get a word in edgewise. She looked at me smiling and said, "Chaz won't let me speak. He insists that he has to let you know why he is in your life."
Back story: I am not a dog person—I'm a cat girl! Chaz migrated from my ex-husband's home to my home sometime early 2000's. Eventually, my son graduated high school and Chaz remained in our home. My husband does the walking, feeding, playing and even showers with him once a week. I do potty duty during the day but it is on a leash and only as long as it takes to get the deed done. He melts the heart of anyone who visits our home. We have friends that will drive to Charleston to pet sit. My husband sneaks snacks in his morning breakfast. He wants for nothing. My current marriage and home is peaceful and loving.I stared at Barbara waiting on Chaz's message. "He says the reason he is in your life is because you needed something gentle." The atmosphere of my first marriage was one far from peace. Wow! "Let me ask him what he wants more of…." I sit quietly. "He says he doesn't want anything. He says he has everything he needs. He is a happy dog." Wow! "Let me ask him what he wants less of…. Again, he says he is happy." I look at them both and said, "I can't believe he didn't talk about his showers with my husband." Barbara looks at Chaz and mentions my husband's name. She starts laughing and relays, "He said that he loves Steve because he takes him on really long walks and lets him run." Guilty as charged! With my pup's silent lips, we moved on to my horse. But—that's another testimonial.
Kat Varn
Charleston, SC


The Whole Family!

Barbara is a wonderful "dog whisperer." My dogs and I (past and present)
love her! She leads us in the right direction for healing physically and
emotionally. In addition, she can perform energy healing from a
distance. She's just a phone call away. I am thankful to have her
guidance with my furry friends.
Janna B
Charleston, SC
♥♥♥♥♥♥♥♥♥♥♥♥♥♥♥♥♥♥♥♥♥♥♥♥♥♥♥♥♥♥♥♥♥♥♥♥♥♥♥♥♥♥♥♥♥♥♥♥

Casper

Dearest Barbara,
Casper Little Man and I are so very appreciative of your specials skills. You found a broken rib that the veterinarians could not locate until Casper "told" you where we should examine him. He told you that he was a horse with a troubled past and that he felt he had no future. You explained things that I could not relate to him properly. Well, two years later Casper is sure that he will always be with me. He has healed and gained weight and has passed the Parelli Natural Horsemanship Level 2. He pushes other horses away from me, so we have had to compromise on that development.
Casper and I are true partners who love trail riding and are training in Level 3. Best of all he is now registered as a rare breed with the American Indian Horse Registry and has been featured in their newsletters. Thank you Barbara Rawson, and I plan on attending your workshop so that I can keep up with my horsey genius.
Fondly,
Diane Rall
Loris, SC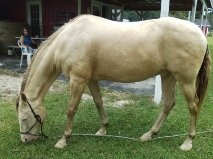 ♥♥♥♥♥♥♥♥♥♥♥♥♥♥♥♥♥♥♥♥♥♥♥♥♥♥♥♥♥♥♥♥♥♥♥♥♥♥♥♥♥♥♥♥♥♥♥♥
GRACE

I did not have children. I shared life with my only dog, Grace. She remains the greatest love of my life.I met Barbara two weeks before Grace crossed the rainbow bridge (quite by surprise). She was twelve years old and outliving cancer with no pain or obvious decline for 14 1/2 months. Barbara said Grace wants an adventure. I took Grace to the mountains in North Carolina. The furnace went out in a three-year old luxury house a friend had offered, which was odd. It was February and cold. Instead of staying an extra day, we headed back to Charleston. She played with her toys by the fire place, romped in the woods through the snow, rode in the car everywhere we went, and slept with me.We drove back to Charleston and that night she had to leave me, but my Grace had her adventure. It was Divine.I scheduled another appointment with Barbara two weeks after Grace transitioned. She contacted Grace and was of infinite comfort. The telepathic connection helped me with my grieving more than anything. I encourage you to do so. I am from Kansas (which Barbara did not know) and Grace first revealed herself riding in a car through corn fields in Kansas. She loved to ride in the car!Four years later, I still schedule readings with Barbara. Grace reveals specific circumstances in my life that Barbara would have no way of knowing as her way of helping me resolve problems. It is an amazing Grace indeed to have spiritual help through your beloved pet friend.I realized the depth of my relationship with Grace only after her crossing. I look forward to her return (should she choose to do so).........because I now intimately appreciate her BEING. Of utmost importance, it is through Barbara and her communication with Grace, that I enjoy the intense pleasure of knowing that Grace is my Guardian Angel and of feeling her presence with me.
♥♥♥♥♥♥♥♥♥♥♥♥♥♥♥♥♥♥♥♥♥♥♥♥♥♥♥♥♥♥♥♥♥♥♥♥♥♥♥♥♥♥♥♥♥♥♥♥